Marine BirdWatching & Islet Boat Tour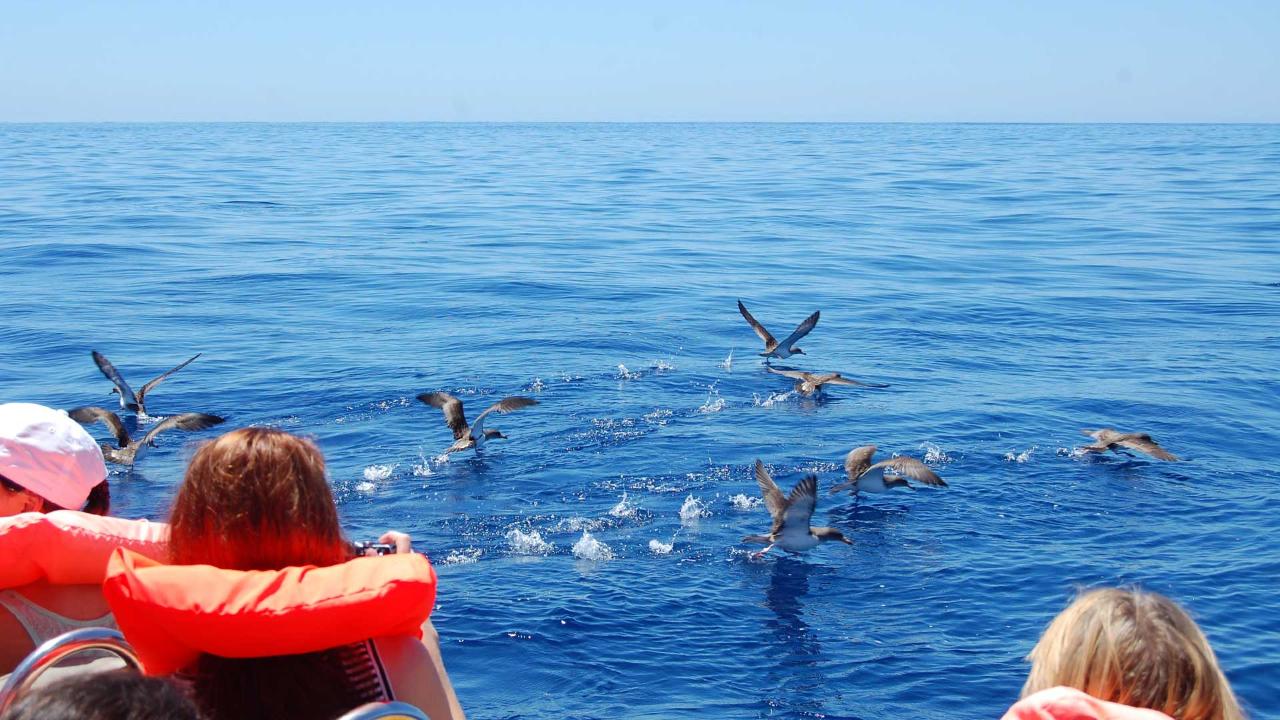 Duration: 3 Hours (approx.)
Location: São Miguel Island, Azores Islands
Join a marine birding expedition with Biologists and Naturalists, in the search for the season's diversity of Sea Birds in mid-atlantic bird watching paradise!

What you can expect:

You will meet us at the Marina of Vila Franca do Campo for check-in, at the specified time.
The day starts with a short informative briefing introducing to locally observed species, migratory and behavioral patterns, and onboard safety.
Everyone will follow the Guide and Skipper to their designated boat and head out to sea. Our lookout high inland will help locate our friends, and provide directions via VHF Radio to where the boat will travel initially at high speed. While carefully approaching viewing distance to our friends, your Guide will keep you informed..
Many Birds find oasis in the Azores Islands to breed and raise chicks, or as on-route refuge - marine birds can be observed yearlong, peaking in Spring with the arrival of migratory species, and in Autumn with rare american vagrants shorebirds.
It is the largest known colonies of Cory's Shearwater and Roseate Terns. Other commonly sighted species are Barolo Shearwater, Common Terns, and Yellow legged Gulls, occasionally Bulwer's Petrel, Grant's Storm-petrel, and Monteiro's Storm-petrel, and unexpected surprises are Bridled Terns and Sooty Terns.
Migratory non-breeding Great Shearwater, and Leach's Storm-petrel can be regularly observed, as well as Manx Shearwater, Sooty Shearwater, and vagrant Arctic Skuas, Pomarine Skuas, and Great Skuas, possibly Little Egret and Turnstones, Whimbrel, and surprise rarities.
Upon return to the Marina, the boat will tour around the Princess Ring Islet of Vila Franca do Campo, for a close look at the volcanic marvel and residing colonies.
Know before you go:
Eat light, and bring your personal water supply, sunscreen and chap stick for the Sun, and warm clothing since temperatures may vary. Light food is permitted onboard, a camera is essential, specially for photography lovers, and binoculars are recommended. Please protect any personal equipment

This tour is inappropriate and inadvisable for anyone pregnant, with weak back, in wheelchair, in delicate health condition, or under the age of 4.

Includes:
Knowledgeable Wildlife Guide
Experienced Skipper
Zodiac RIB Boat (12-28 pax)
Impermeable Top and Life Vest
Insurance
Does not include:
Hotel Pickup and Drop-off

Personal Water supply